Meet Dr. Nicola Kelly
Our Family Practice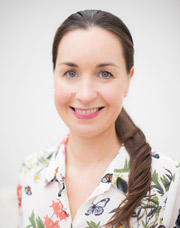 After living in the UK for many years I am excited to be working at Premier Chiropractic Swords. As a family we are very passionate about Chiropractic and natural health so I am delighted to be working with my colleague and brother Stuart.
A Lifelong Passion
Always knowing that I wanted a profession in the health sector and after observing my first Chiropractor in Dublin I knew straight away that Chiropractic was the profession for me. I made my way to the UK in 2000 and graduated with an honours degree in 2004.
Over the past 17 years I have treated a wide variety of patients from the general public to professional athletes.
I regularly attend seminars in the UK and around Europe to keep up to date with new techniques and developments within the Chiropractic profession.
My main aim is to adjust and help as many families heal naturally through chiropractic care. I know the importance in maintaining a healthy spine and limiting the stresses on our nervous systems so I regularly play tennis, eat well and attend meditation classes.
I look forward to meeting you.
Call Premier Chiropractic in Dundalk or Swords today or email us so we can help you take your first step towards better health.

Dr. Nicola Kelly
Swords: 085 724 4706
Company Director: Stuart Kelly | Company Number 479619